Learners motorcycle license from ICBC required for all courses
Learn to Ride!
Everything you need to learn to ride safely
Motorcycles Provided

Motorcycle Gear Provided

Classroom and Training Lot

MSA/MST test included and onsite

Road Ride

ICBC Road Test Booking

Motorcycle available for the ICBC Road Test

Everything you need to get riding
Learn to Ride and more
More Road Rides and an extra lesson for the Road Test
Everything in the $749.99 course

Aimed for new riders wanting more

Aimed for riders who haven't ridden in years

You're covered start to finish

Two extra Road Rides. Three total.

Practice Road Test Private Lesson (1hr)

Motorcycle for the ICBC Road Test

About 30 hours of training
We are located in Richmond & Coquitlam.
You will experience an extensive, hands-on motorcycle training course. Our training curriculum has been in use for over 15 years. It has also evolved over the years to accommodate recent technology and techniques.
Your experience will be just like those of our past students. See what they have written about us on Google, Facebook, and Yelp.
Our training facility and instructors are certified by ICBC. Since we are recognized by ICBC we are qualified to test you for your Motorcycle Skills Assessment. It is also referred to as the MSA, MST, and Parking lot test.
Our classes offer a combination of classroom, practical training, and real world training. This will be your foundation to get out on the road. We want nothing more than see you experience the fun and excitement of riding motorcycles.
We make it easy for you to learn. We offer an engaged and animated classroom environment. You'll be able to ride five different types of motorcycles. A Sportbike, Dual Sport, Cruiser, Standard, and Mini. Find out what type of motorcycle feels right for you. You'll be surprised!
We also provide the helmets, gloves, jackets and rain gear for your safety.
Our enthusiasm and love for motorcycle riding will shine through. We will teach you the techniques for navigating and dominating the road on a motorcycle. Safety is our number one priority. These skills will take you a long way in your local and long distance rides. Don't put off learning to ride anymore. Now is the time!
Do you want to make sure you pass our motorcycle course first try?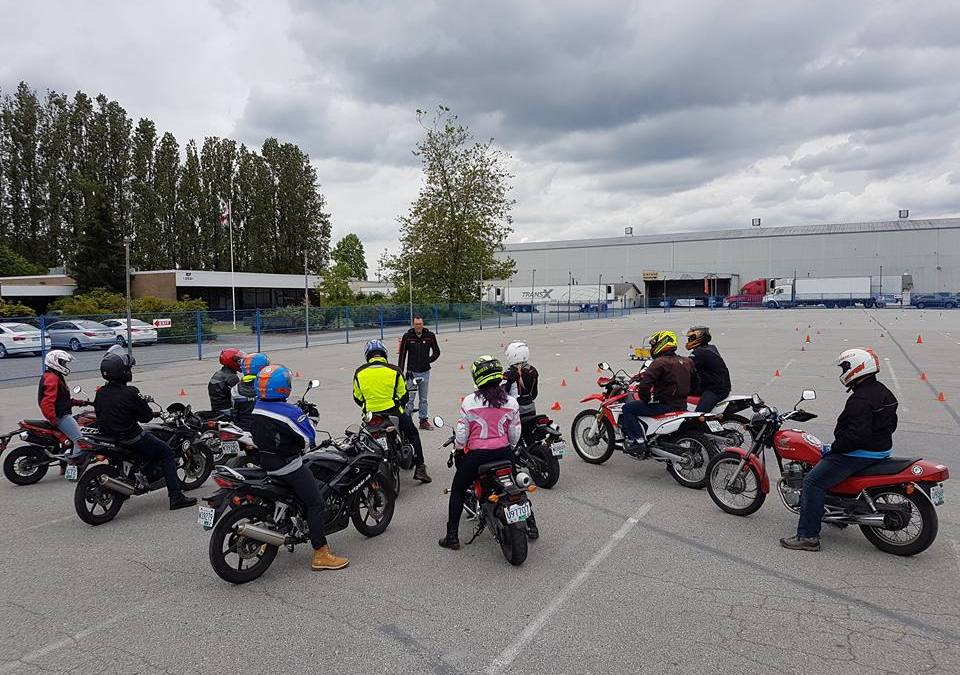 Check out motorcycle hear at Pacific Motorsports
Students per instructor in group classes
Different styles of motorcycles for you to ride
私人課程可用粵語或普通話教授。12小時的教學費用為$1250.00
課程中包括MSA, 並送贈價值$25.00的Pacific Motosport 機車用品禮券,
欲了解更多詳情請聯絡 Otto – 604 338 8011 或電郵otto@1stgear.ca
Our group classes are run every week and consist of 7-8 hours of classroom theory, 10-11 hours in our training lot, and three road rides lasting 3 hours. Motorcycle, helmets, jackets, and gloves provided.
The classroom theory covers a variety of topics. The course fundamentals are common sense, safety, and the essential need to know information. We understand that classrooms can be challenging environments to stay focused so we'll break often, play some games, and keep the classroom involvement high.
The Training Lot is where we will introduce you to your first motorcycles. You'll get an assortment of motorcycles to choose from. Part of the fun will be seeing which type of motorcycle you like the best. We'll then teach you the basic skills to ride safely on the open roads. We'll also teach and explain emergency maneuvers to keep you safe. You never know what the world will throw at you.
The road rides will be where you apply everything you learned. While they are optional, they are highly recommended. We'll take you out on the streets and slowly introduce you to the rural roads, city roads, and highways. We'll start out on quiet roads, then up to busier roads, and then the highway. We stay as a group so no one gets left behind. Safety in numbers! There will be a break in between at a local coffee shop or any other place that works for our motorcycle gang.
I want PRIVATE LESSONS to learn how to ride motorcycles
I already know how to ride, I just need to pass the MST.
I already know how to ride and I need to pass the Final ICBC Road Test
The power, passion and dedication  exemplified by 1stGear instructors is outstanding and inspiring. I am humbled by what I thought was simply a new skill I would learn and soon realized that from a personal standpoint, it became a profound, life changing experience instead. Carried out in an enclosed, safe, professional and well thought out environment – Lionel, Lee, Patrick and without doubt,  the other 1stGear team members …are extremely extraordinary at what they do.  These individuals are mentors, enthusiasts & are experts in the industry; they have passion, exude tremendous leadership and are perfectly unpretentious. The team will deliver specific attention to details, advice and suggestions one would not discover elsewhere  in an individual riding school. Whatever has driven you to explore your options in riding and in riding schools… trust that you will be in strong, capable hands at 1stGear. When the course is done, without doubt, it will be about more than the course just being 'done'. You will emerge a changed and proud individual who has taken those first steps of your new journey in riding – with confidence that the skills you have learned from 1stGear will remain close to your heart for years to come. Whether you are a complete beginner or re familiarizing yourself with the sport – 1stGear will help you achieve your personal goals via group class setting with individualized attention. Thank you 1stGear for being a colorful and memorable experience in MY personal story… so excited for the new adventures to come! – Kimmi Kim, February 25th, 208 via Yelp
---
 My husband and I went to 1st Gear this past weekend from the Interior to get a jump on the weather and to be ready to ride as soon as the snow lets us out. The compact schedule, 3 sessions over 4 days, allowed for the possibility to get through the training and MSA test quickly, accommodating us in a way that a weekday schedule could not. I loved having 2 full days dedicated to learning and riding, so much valuable information was covered and we had the time to practice, practice, practice while it was fresh in our minds.The instructors were knowledgeable, relaxed and encouraging as well as strict on the important details. I would highly recommend 1st Gear to any new rider! -Linda Elfstrom, Feb 5th, 2018 via Facebook
---
Wow!!! I dont even know how to express how amazing the instuctors and my group of class mates were! As the only female in the class, I felt comfortable and at ease with everyone. The quality of the instruction was top notch and the skills I learned in a short time will serve me well going forward in my riding. The instructors we personable and very patient with everyone. They went above and beyond when I needed a little extra practice time. They were supportive and encouraging all the way through. I loved the opportunity to try many different bikes and use the schools rain gear 
😉!! Also, you can tell the instructors love their job and are passionate in teaching. The course covered not only practical skills but also info on bike basics, riding gear, basic bike maintenance, insurance and financing questions. I highly recommend 1st Gear School. Only problem I have now, is that all I can think about is riding and bikes! -Karina Crow, October 22nd 2017 via Facebook
---
If you don't have anyone to ask for advice about bikes and you want to learn how to ride a bike safely, like myself, 1st Gear Motorcycle School & Training should be definitely your first option. Lee and Lionel live and breath about bikes, and how they will pass you good habits and useful info about riding a bike that will keep you safe on your saddle. Their super friendly attitude will make feel like hanging out with your buddies and at the same time, they will introduce you the motorcycle world. Apart from learning how to ride properly and safely, 1st Gear will share with you their edges, how you could get the best deals for helmets and gear, insurance plus where you could go to get your first bike. I feel fortunate enough to get Lionel as an instructor for my class. He has the perfect way to deliver his message across, he can answer any question about bikes and riding and his sense of humor will make the long hours in class look really fun! Overall, I strongly believe 1st Gear set me up with a solid foundation to become a great rider. It's up to me now to practice everything they show me. Last but not least, from my humble point of view, I certainly believe is Lionel way better rider than Lee!!! But, at the end, what really matters, it's that both are great instructors and will share with you their passion about how to ride a bike safely! -Bill Kal on February 14th, 2018 via Google
---
I Just took the Learn to Ride course with 1st Gear… Sign up, learn life skills, love it!
Over 2.5 days we went from Zero motorcycle experience (1/2 the class zero experience, including me!) to MST trained and tested. They train you well beyond the MSA/MST level – they teach you skills you will need in real life – and the test is then a breeze.
As well as training on the MSA/MST examined areas; additional training includes lots of obstacle and course practice, low speed maneuvering & balance, bike checks, Countersteering, Emergency braking on corners!, riding different sized bikes (up to 300 CBR), Riding in traffic (simulation), etc. etc.
In addition, the course fee includes 3x follow-up Ride Along sessions where you'll go out onto the roads and they help you put all that training into practice – i can't wait!!!
We had instruction from Lee, Patrick, Lionel & Melanie – they're all awesome and they have great personalities – they'll put you right at ease – the nerves soon turn to smiles – so you can relax into the learning and riding.
The course fee includes everything – Bike, helmet, jacket, gloves, instruction, testing fee (and free retests until you pass – but you won't need them 
😉 . All you need to supply is a good pair of boots (hiking boots is fine) and Jeans.
The level of training is astounding – they teach methodically building it up slowly until you've got it – i still can't believe how much i've learnt since Thursday!
Bicycle experience really helps – yes really – so beg/borrow a bicycle and practice – you'll be ahead in the game!
Why are you still reading? Go sign up already! –Jay Jones on October 16th, 2017 via Facebook
Read all our reviews and testimonials
We are a Five Star reviewed school but we're not perfect.
Lightmode Helmets: The coolest high viz lighting for your helmet
It's a local Vancouver company too! 20% off and free shipping for registered 1st Gear Students.